2011/08/30
(GQ Magazine Interview) James Marsden: Nice Guy No More
James Marsden is having one of the most unusual years for a leading man in some time. We asked the star of this Fall's Straw Dogs remake about making the transition from acting opposite a CGI rabbit to a gang of bloodthirsty rednecks

Here's a hypothesis: No leading man in the long history of cinema has ever starred in two more outrageously opposite movies in a single year than James Marsden. First movie of 2011: Hop, a zany Easter flick for kids in which he stars alongside a tiny CGI bunny. The second: Straw Dogs, a remake of Sam Peckinpah's ultraviolent home-invasion rape-and-kill-fest, in which Marsden burns off James Woods's face with a pot of scalding hot water. "I made Straw Dogs first," he says, "and now I think you know why I did Hop. I needed to do some goofy pratfalls and talk to a rabbit for a few months."

In the 1971 Straw Dogs, Dustin Hoffman played David, a nebbishy mathematician who goes Seal Team Six on a pack of local lowlifes after they rape his wife. Marsden's rakishly handsome David? A "Hollywood screenwriter." This isn't the only break with the original, and Marsden, 37, is already bracing for the critique that sanding away Peckinpah's more provocative sexual politics leaves nothing more than an exploitative southern-gothic bloodbath. Read the rest of this entry »
2011/08/30
Exclusive "Straw Dogs" Clip: Coward
2011/08/28
Jimmy on the set of "Bachelorette"
Jimmy was photographed when filming his new movie "Bachelorette" in New York recently. Be sure to check out the HQ photos we've got!


GALLERY LINK:
Movie Productions > Bachelorette > On The Set (August 26, 2011)
2011/08/19
New photoshoot for GQ Magazine
Jimmy did a new photoshoot for the September 2011 issue of GQ Magazine. Thanks to Boy Culture for the scans!



GALLERY LINK:
Magazine Scans > 2011 Scans > GQ (September 2011)
2011/08/19
New photos added
Jimmy was photographed in New York recently. I've also found some HQ photos of him at Tour de France in Paris from July.



GALLERY LINK:
Paparazzi Photos > 2011 Candids > [2011.08.16]New York City (HQ)
Paparazzi Photos > 2011 Candids > [2011.07.24]Paris (HQ)
2011/08/19
James Marsden Joins "Bachelorette"
Kirsten Dunst, Isla Fisher, Casey Wilson and Lizzie Caplan are set to star in a feature film adaptation of Leslye Headland's off-Broadway hit Bachelorette, according to The Hollywood Reporter. Headland has penned the screenplay and will direct. Production is currently underway in New York.

Bachelorette follows a group of twentysomething women who come together in a lavish hotel on the eve of their friend's wedding. The girls however have always disliked the bride-to-be, who they've known since high school, and spend their drug and booze-fueled night ridiculing her, while partying with a pair of guys they meet outside the hotel.

Dunst (Spider-Man) will play the bride, Regan, with Caplan (TV's Party Down, Mean Girls) and Fisher (Wedding Crashers) as strung-out roommates Gena and Katie. Wilson (TV's Happy Endings, Saturday Night Live) will take on the role of the maid of honor, Becky. The cast also features James Marsden (Hairspray) as Trevor, Adam Scott (TV's Parks and Recreation) as Clyde and Kyle Bornheimer (TV's Perfect Couples) as Joe. (The play featured only two male roles, Jeff and Joe.) Read the rest of this entry »
2011/08/17
More "Straw Dogs" Stills Added
Sony Pictures released more promotional stills from the movie "Straw Dogs" recently. I've uploaded some HQ ones to the gallery.




GALLERY LINK:
Movie Productions > Straw Dogs > Promotional Stills
2011/08/05
Order "Hop" DVD & Blu-ray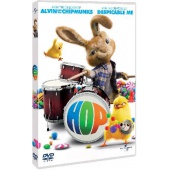 Universal Pictures has just released DVD and Blu-ray Disk of "Hop" both in Australia and Hong Kong. For me it's really exciting to see the Hong Kong edtion contains Mandarin and Cantonese languages. There're also two special edtions for Australian fans, a Triple Play Edtion (Blu-ray + DVD + Digital Copy) and a 2-Disc Limited Edtion including bonus games disc.
The DVD region codes for Hong Kong and Australian DVD are 3 and 4, and Blu-ray Disc region codes are A and B. More information about DVD region can be found here. But if you've got a region free DVD/Blu-ray player, there's no need to worry about it.
PURCHASE "HOP" DVD OR BLU-RAY DISK ONLINE!
Hong Kong Edtion DVD (Region 3) Order (Hong Kong title: 復活反斗王)
Hong Kong Edtion Blu-ray (Region A) Order
Limited offer: 首批DVD及BD隨碟附送Jelly Belly糖果一包及內附Jelly Belly優惠劵參與遊戲有機會贏取Jelly Belly金裝迷你糖豆機及糖果瓶一套.
Australian Edtion DVD (Region 4)Order
Australian Edtion Blu-ray (Region B) Order
Australian 2-Disc Limited Edition DVD (Region 4) Order
Australian Triple Play Edtion Blu-ray (Region B) Order
The DVD/BD will be released in UK and Italy in a few weeks as well. Now you can pre-order them on HMV, DVD.it or other online stores.
2011/08/03
New photos added
I've found some new candids of Jimmy in New York's East Village on July 31, 2011.


GALLERY LINK:
Paparazzi Photos > 2011 Candids > [2011.07.31]New York City
2011/06/24
Gallery Update
I've re-uploaded the photoshoot for January 2008 issue of GQ Magazine in better quality. Thanks to Diana @ Natalia-V.net !




GALLERY LINK:
Photoshoot Outtakes > Magazine Outtakes > Peggy Sirota Photoshoot for GQ (January 2008)